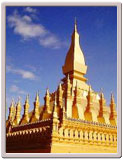 Need a Flight to Laos?
Booking your flight to Laos is simple. You can use this page to find your flight, book a flights from Bangkok Thailand to Laos and and you can check the weather forecast for Laos too. SaveFlights.com offers the selection of various airlines with great savings airfare on one way air ticket, round trip air ticket with online flight booking. Easy to use, friendly and save.
Guide to Laos?
The lesser-known, land-locked neighbour of Thailand, Burma and Cambodia, Laos is establishing itself as an essential stop on the Southeast Asian trek. While there are strong signs of its French colonial past and more shadowy recent history in the quiet and sleepy capital Vientiane (Viangchan), much of the country remains fundamentally unchanged by the passing of time, and that's its appeal.

Luang Prabang with its spectacular skyline of Buddhist temples, tiers and peaked roofs was the royal capital of the first Lao kingdom (Lan Xang, or One Million Elephants), founded in the 14th century, and is now the capital of the country's tourism business. It's a spectacular and atmospheric place, which you can view from above by climbing the 100 metre rocky outcrop, Phu Si. Trails, boat trips, forests, cave temples, waterfalls and river pools ideal for swimming can all be accessed easily from a base at Luang Prabang.

The country around Vientiane and up and down the Mekong river is also worth exploring. Laos has been overlooked by the western world for so long that everything from the cultural diversity and spirituality of the Lao people, the traditional stilt bamboo houses, the rice fields, the bicycle traffic and food from street vendors holds new fascination. The nearby fields soon give way to jungle around Tad Leuk, as well as the great Nam Ngum lake - the ideal place for rest and relaxation after cultural immersion.