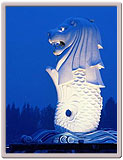 Need a Flight to Singapore?
Booking your flight to Singapore is simple. You can use this page to find your flight, book a flights from Bangkok Thailand to Singapore and and you can check the weather forecast for Singapore too. SaveFlights.com offers the selection of various airlines with great savings airfare on one way air ticket, round trip air ticket with online flight booking. Easy to use, friendly and save.
Guide to Singapore?
If Singapore just stood still, we might be able to gauge what it is, but there's little chance of that on this dynamic little island. Despite intense heat and humidity, Singapore has one of the most advanced rail systems in the world, and skyscraper kingpins like I.M. Pei and Kanzo Tange are constantly fighting it out for aerial supremacy. But the old survives too: against the odds, Chinatown, Little India and Arab Street retain much of their original charm.

Singapore is all about East-West fusion, and that extends to cooking in what is probably the food capital of South-East Asia. Hokkienese mee is a popular noodle dish, as are a range of cuisines from African to French. Pay less at one of the many hawker centres, though the absence of air conditioning may make you glow more.

To many people, Singapore is Raffles, the legendary hotel whose guests have included Joseph Conrad and Rudyard Kipling. Shame about the faux-colonial spin-offs, but the restored and refurbished hotel should still put you in the mood for a dry Martini.

Singaporean society seems stretched between Confucianist ego-lessness and the I-want-it-now philosophy of the satirical cartoon character Mr Kiasu. The tiger economies may have hit the bottom, but Singapore, as ever, is moving on.