Air Andaman's extensive network services 13 regional destinations from Bangkok and Chiang Mai.With a fleet of 5 modern turboprop aircraft, 3 Fokker 50s based in Bangkok and 2 British Aerospace Jetstream 31s base in Chiang Mai, We operate more than 20 daily flights. Over 200 dedicated staff ensure that our passengers
receive impeccable and punctual service at the highest safety standards.
All of our domestic flights are codeshare with Thai Airways International providing convenient and seamless internation connections for passengers of both airlines through our alliance with THAI and PB Air 27 domestic destinations are served. While at present the majority of Air Andaman's passengers are from the business community, We also offer several world class tourist attractions at our destinations.
The Nakorn Ratchasima, Burirum and Surin areas have on abundance of Khmer Surin such as the Panom Rung Historical Park and Khao Preas Vihear Sanctuary.
For those who prefer the mountain scene then Loei, reputedly the
most beautiful province in Thailand, will be served from October 2002 onwards.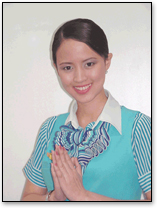 We also offer the very best of white sandy beaches and crystal clear waters, Our flight to Chumphon ideally serves visitors to Koh Tao. Too small to have an airfield this idyllic island is reachable by ferry from Chumphon The best diving spot in the whole of the Gulf of Thailand, Koh Tao boasts numerous small inlets with lovely beaches where fish will greet you in knee deep water.
Venture a little further from Bangkok and Air Andaman can offer the delights of the South China Sea. The Narathiwat service is the most convenient way for a visitor to reach the islands of Perhentian Besar and Perhentian Cecil, arguaby the most beautiful islands in Malaysia. These islands are on the Northeastern tip of Malaysia in Terengganu. Regular half-hour Ferries leave for the islands from Kuala Besut which is only a couple of hours drive from Narathiwat.
Air Andaman also plans to establish a base in the Southern city of Had Yai with routes to Medan in Indonesia,Kuala Lumpur and Phuket In the very near future.
A resurgence in the regional economies means more demand for air travel. As countries open up and economic cooperation continues to develop, regional networks will play an ever more important role. Air Andaman will strive to achieve service excellence while developing its network to serve the needs of regional air travel in Southeast Asia.