The origins of Bangkok Airways can be traced back to 1968 and a company known as Sahakol Air, which was initially set an air taxi service operating a Tradewind, a twin-engine, ten-seat aircraft during the Vietnam War. The assignments came from Overseas International Construction Company (OICC), an American construction company known as United States Operations Mission (USOM) and a number of other organizations engaged in oil and natural gas exploration in the Gulf of Thailand.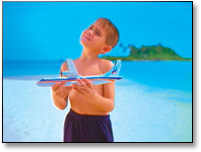 Today, Bangkok Airways flies to a total of thirteen destinations in five countries: Bangkok, Samui, Phuket, Krabi, Sukhothai, Pattaya Beach (Utapao), Chiang Mai, Trat in Thailand. In Cambodia, we fly to Phnom Penh and Angkor Wat (Siem Reap). We also fly to Jinghong, Xi'an, Guilin in China, Luang Prabang in Laos, Yangon in Myanmar, and Singapore.

In choosing these new destinations, Bangkok Airways invariably considers cities with rich cultures and historically important sites, which are not easily accessible to the everyday traveler. This underlines the airline's commitment to help local tourism industries develop their full potential and to promote local heritage.
Our departure lounge at Bangkok Airport is equivalent to First Class or Business Lounges at other airports. The difference is our lounge (Domestic Terminal) is available for all our passengers.