Founded by Dr. Piya BhiromBhakdi: the President of Boonrawd Brewery Co., Ltd., PB Air was formed to fulfill and on request air transport to the executives of the brewery. Being the largest brewery in Thailand, all domestic and neighboring countries branches must be linked whenever required. The mission for PB Air was to provide safe, fast, and private flight all over the region. After the ultimate convenience became well-known,PB Air wanted to extend the niche service to the public by apply for the license to operate the flight commercially.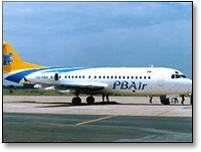 The Department of Aviation, Ministry of Transport granted Charter / Non-schedule license to PB Air in November 1995. With the objective to help improve the tourist industry, which is major source of income of Thailand, PB Air started charter service as an alternate way of travel. After the delivery of the state-of-the-art bigger aircraft, the green light was given to upgrade the license as scheduled / programmed charter. The first destination was Chumphon, the tropical resort on the East coast of Southern Thailand. As tourism is the important industry in Southeast Asia, many projects are cooperated between countries. PB Air was designated by the Thai government to participate in the Indonesia Malaysia Thailand Growth Triangle (IMT-GT) project. This action has placed PBAir in the new hub of exotic tropical destinations. With the remarkable record and experiences gained through years of happy landings, PB Air was announced the newest scheduled air carrier of Thailand in January 1999.

Operating the all-jet aircraft and having the route network linking secondary point-to-point cities around the region, PB Air is now ready to take-off to the new era and join the deregulated sky of Thailand, especially with the forming of Alliance with Thai Airways International and Air Andaman.