| | |
| --- | --- |
| | Thai Airways |
The evolution of Thai Airways International Public Company Limited from a small domestic operation to a fully-fledged global airline is the direct outcome of the far-sighted vision of our founders. Early on, we embarked on a course of building a reputation as a regional leader, pioneering routes to unusual destinations. We further strengthened our reach by forming strategic alliances with major airlines, becoming a key partner in a routenet that now covers the globe.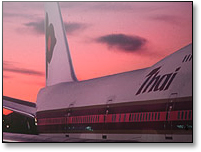 THAI's popularity among travellers comes from our comprehensive services and efficient, on-time operation. More than that, however, we are known for our gracious ground and inflight service. This includes personal attention to passenger needs, with special treats (like gift orchids for all female passengers), and superb cuisine which have earned us a place in the hearts of the travelling public.

Few passengers are aware of the numerous behind-the-scenes activities that make THAI a self-sufficient airline. We operate our own Catering Department, Maintenance Department, and Cargo Department that serve, not only THAI's needs, but those of numerous airlines operating into Bangkok. Many ancillary functions are devoted to enhancing the pleasure of travel by providing our customers with Limousine Services, Royal Orchid Holidays, our Royal Orchid Plus frequent flyer programme, hotel accommodations, convention facilities, and attractive incentive programmes.

All these and more enable THAI to respond quickly and comprehensively to customers' requirements and passenger needs, qualities that have made us one of Asia's premier airlines.

How We Came to Be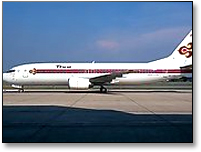 THAI began its life as a domestic airline called Thai Airways Company (TAC). TAC was formed in 1951 when the Thai government purchased shares in three small private airlines and amalgamated their fleets in order to create a national airline. Rapid growth followed with air service reaching into formerly-remote provinces of Thailand.
Firmly established as a domestic airline, we then decided to try our wings in a wider realm by launching several experimental flights to cities within the region. In 1960, we formed an alliance with Scandinavian Airlines System, and Thai Airways International was born. TAC remained a separate company and continued to provide service to cities within Thailand.
For the first six years, THAI served 10 regional destinations with propeller-driven aircraft but in 1966, we scored an Asian first by offering the region's first all-jet service. With our fleet of modern aircraft, we pioneered new routes, offering the first jet service to Bali (December 1967) and Kathmandu (December 1968). By 1970, we were carrying a half million passengers each year and were ranked as Asia's third largest airline. It was time to stretch our wings even wider.
We did so in April 1971 when a THAI airliner touched down in Sydney on our first intercontinental flight. The following year we opened European service with flights to Copenhagen. Other cities followed quickly as we expanded from our homebase, Bangkok. To accomodate an increasing demand, we began flying Airbus A300s in October 1977 and in October 1979, took delivery of our first Boeing 747s.
In 1980, we began flying trans-Pacific routes to North American cities. The decade also saw the expansion of ancillary facilities to provide broader-based service to our passengers and customers. In April 1983, we launched a joint venture to operate hotels in Bangkok, and in May 1985, we completed our new Aircraft Maintenance Centre. In May of the following year, we inaugurated our new Cargo Village and in December 1987, we opened our new corporate headquarters in Bangkok. Perhaps the most dramatic change was the merger between Thai Airways International and Thai Airways Company to bring international and domestic services under a single umbrella.
THAI Today
The 1990s have seen further expansion of our routenet and frequency of service but have also witnessed some fundamental changes to prepare us for the future. The Cargo Village, Maintenance Centre, and Flight Kitchen were expanded. In July 1993, we inaugurated our Royal Orchid Plus frequent flyer programme which enjoyed almost instant success. Perhaps the most far-reaching decision came in 1995 when we joined with Lufthansa and United Airlines to form a Global Alliance that will strengthen all three airlines. The same year, saw the introduction of the THAI Phone and in March 1996, we took delivery of our first Boeing 777, as a first step in modernising our fleet to ensure that we remain a leader as we progress towards the 21st century. In the coming years will see THAI will acquire a new look which we will proundly carry into the 21st century.